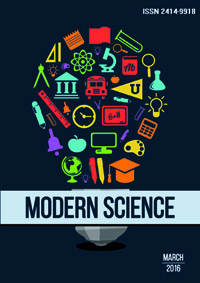 Polylingual International Scientific Journal «Modern Science» is a Journal, intended for specialists, which are actively interested in modern achievements in science and technology.
Journal staff invites post-graduate students, candidates for a doctor's degree, pedagogues, organizations`researchers, as well as all the authors, which are interested in international scientific dialogue.
Materials can be submitted for publication in English, German and Russian.
Scientific Journal «Modern Science» has got an International Standard Serial Number for periodicals (International standard serial number) ISSN 2414-9918.
An archive of Scientific Journal is available in the Scientific Electronic Library (SEL) – a lead implementer of a project on creation of Russian Science Citation Index. Articles are placed in the Elibrary personally for each author.
The purpose of the Journal is publication of the scientific researches results conducted by postgraduate students, postgraduate degree seekers and candidates for a doctor's degree.
Certificate of publication
Free for each author upon request in the Publishing will be sent a certificate confirming the fact of the publication of Your article in a scientific publication. It may be used for the assessment or while improving qualification.
The Journal publishes articles in Russian, English and German.
Publication frequency – monthly. The Journal places only authoring scientific publications.

Output data of the Journal.
Perman J.А. THE IMPLEMENTATION OF INTEGRATION POLICY IN A SCHOOL SPACE // Modern science. М., 2019. — № 3. — p. 107.